How GPS tracking can help dementia patients and their families
Dementia is an incredibly challenging and worrying condition which affects over 900,000 people in the UK alone.
Unfortunately, this figure is projected to rise to well over 1 million by 2025, with the risk of developing dementia gradually increasing in people over 65 years old: one in six people in their 80s will be affected, and over one in three aged 90 and over will, unfortunately, suffer from this terrible condition.
With the number of those living with dementia on such a sharp incline, families must be adequately prepared to provide their loved ones with the support they need.
Personal GPS Trackers can be an invaluable tool for helping both dementia patients and their families by providing extra peace of mind.
In this article, we'll discuss how GPS tracking can be a great benefit to those suffering from dementia, as well as helping their family members gain far greater peace of mind over their loved ones.
What is GPS tracking?
Let's first take a look at what GPS tracking is to give you an understanding of this technology and how it works.
GPS tracking is a system that uses the Global Positioning System (GPS) to determine the precise location of a vehicle, person, or another asset to which it is attached and to record the position of the asset at regular intervals.
The recorded location data can be stored within the tracking unit, or it can be transmitted to an Internet-connected device using a cellular or satellite network.
The GPS system is a constellation of satellites that orbit the Earth and transmit signals to GPS receivers on the ground.
A GPS receiver uses these signals to calculate its own position and time, using a process called trilateration. This involves measuring the distance to at least three satellites using the time delay of the signals. By determining the distances to three satellites, the receiver can pinpoint its location on the Earth's surface.
How can GPS Tracking help people with dementia?
Dementia causes many issues for the person suffering the disease as well as for their family members and care providers.
One of the main traits of dementia is a loss of memory which in turn can cause confusion in the sufferer. This can often lead to patients wandering off and getting easily lost. For many dementia patients, this can mean they are isolated in their homes by family members keeping them locked in to avoid them going out and getting lost.
This is understandable, especially when caregivers are not able to be there 24/7 to keep an eye on the sufferer, however many studies have shown that being outdoors and retaining social interactions can reduce the memory loss symptoms associated with dementia.
This is where GPS tracking comes into help.
A small GPS tracking device, such as the GPSBob Pebble Tracker, can be easily placed in a coat pocket, bag, or even attached to a person using a keychain or lanyard which means in the event of the person wandering or getting lost, it is easy for family members or care providers to find the exact location of the person, helping them to easily fetch them home or get help to their exact location.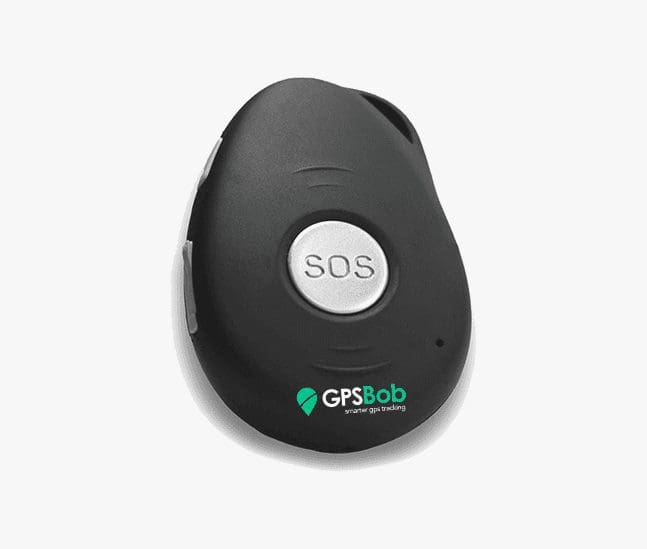 Many devices, including the Pebble device mentioned above, incorporate an SOS button, which when activated will send an alert to a smartphone app or other software to alert family members to an issue.
GPS tracking for dementia sufferers is becoming increasingly popular as awareness of this terrible disease increases. GPS tracking can give family members that much-needed peace of mind over their loved ones when they are unable to keep a physical eye on them.
Purchase the Pebble Tracking device and get our Home Plan software free for life, enough tracking data to last up to 5 years without top-up, and all with no contracts or monthly subscriptions. For additional peace of mind, you may wish to upgrade to our Professional Plan software which will allow you to set up geo-fences to give extra peace of mind that if your loved one ventures outside a certain zone that you will be alerted.